About the Spardha
The Satyamev Jayate Samruddha Gaon Spardha is a competition aimed at empowering citizens to create the village of their dreams, and transform village ecology and economy.
It is a competition between select villages in the state, who have already completed a threshold of water conservation work between 2016 and 2019, as a part of Paani Foundation's Water Cup.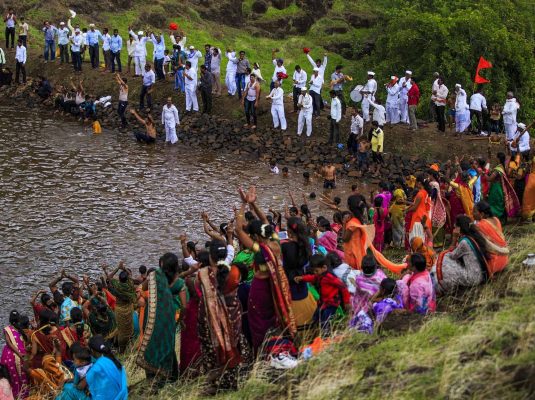 The Problem We're Solving
From 2016-2019, thousands of villages in Maharashtra participated in the Satyamev Jayate Water Cup, a competition for the best and maximum work on soil and water conservation. Paani Foundation trained citizens on ground in the science of watershed management, who in turn, mobilised their villages and led a thriving people's movement against drought.
As lakhs of citizens united in this fight, barriers of gender, caste, class and religion were shattered. Their unyielding efforts created over 550 billion litres of water storage capacity in the state! Several villages drastically increased their water conservation capacity.
However, as water availability increased so did its usage.
In some villages, land area under water-intensive crops grew manifold. The rate of water extraction shot up. With this indiscriminate water usage, man-made drought struck again as summer approached.
It was clear that working on water and soil conservation alone would not proof us against drought forever. Moreover, the crisis of climate change caused by human activities, exacerbated agricultural uncertainties and drought.
The Samruddha Gaon Spardha aims to address these problems. It will work towards restoring the environment, boosting financial security and ensuring long-lasting resilience against drought.
Pillars of the Spardha
At the heart of the Spardha, are water management and community decision making. Villages will be trained and encouraged to collectively budget their water usage, and make their own crop plans as per the training.
The overall key aspects are:
1. Soil and water conservation
2. Water management and budgeting
3. Increasing tree cover and growing forests
4. Creating protected grasslands of nutritious and palatable grasses
5. Restoring soil quality and health
6. Creating the basis for every family to increase their income
Participation and Duration
In 2020-2021, the Samruddha Gaon Spardha is open to around 1,000 villages in 40 talukas of Maharashtra. It was flagged off in January 2020, and will conclude in June 2021. Click here to view the list of eligible talukas. More details and stories coming soon.